Prof. B. M. Hegde
MD, FRCP(Lond.), FRCP(Edin.), FRCP(Glas.), FRCP(Dub.), FACC(U.S.A.), FAMS
Navigation
Latest Articles
Welcome
Dear Prof. Hegde "Your efforts to relieve pain everywhere would succeed with God's grace."

A P J Abdul Kalam
Bharath Ratna
President of India
Notice
'An article purportedly written by me on doctors receiving commission for tests ordered by them is doing the rounds on the internet. I have written no such article. Whatever article I write is put up on my website. So everyone should be cautious before circulating something along these lines.'
Dr. B. M. Hegde
Tirupati University Confers Honorary Degree of Doctorate on Padma Bhushan Dr. B. M. Hegde

TIRUPATI, September 30, 2011 Tirupati University Confers Honorary Degree of Doctorate on Padma Bhushan Dr. B. M. Hegde
Chief Minister N. Kiran Kumar Reddy conferred the honorary degree of Doctorate on Padma Bhushan Dr. Belle Monappa Hegde, renowned physician and former Vice-Chancellor of Manipal University. Reddy was presiding over the 2nd Convocation of the TTD-run Sri Venkateswara Institute of Medical Sciences (SVIMS), a super speciality hospital-cum-teaching university, in his capacity as the Chairman of its Governing Council.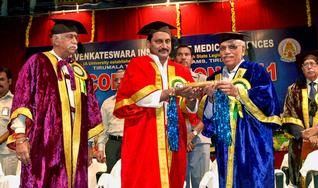 Prof. B.M. Hedge, a recipient of numerous national and international awards including Dr. B.C. Roy National Award, Dr. J.C. Bose Award for Life Science Research, Pride of India Award from the US gave the convocation address covering the entire gamut of medical science and also highlighted the ills plaguing the contemporary medical education and profession.
He regretted that once a noble profession, has now degenerated into one of those money spinning business ventures and said the modern medicine concentrated on organ-based specialities and forgot the owner of those organs—the man himself. Diagnosis has become a new disease today, he said and pointed out that the organ based disease classifications and our obsession with a diagnosis for every illness (label) has 'destroyed' humane medicine.
Summing up, Prof. Hegde said the need of the hour was to change our medical education system to incorporate the new philosophy of health promotion, through the creation of right environment, which he said was never taught these days. He stressed the need for urgent research to try and scientifically authenticate many of the inexpensive methods in other systems of medicine to put together a future system incorporating the best in all streams, calling it perhaps the 'meta medicine' system. <br />
Photo and full news item at http://www.thehindu.com/todays-paper/tp-national/tp-andhrapradesh/article2498915.ece
'People's doctor' gets Padma Bhushan

MANGALORE: Known to most as the 'people's doctor' Dr B M Hegde on Monday expressed his happiness about the government conferring on him the Padma Bhusan Award.
Read more ..... >>>>
Dr. B. M Hegde awarded Padma Bhushan.

Bangalore, Jan 26: Veteran physician and administrator from the undivided Dakshina Kannada district, Dr B M Hegde, has been chosen for the Padma Bhushan award under medical category.
Read more... >>>>
Sages and Scientists Symposium February 2010